Despite the COVID-19 outbreak and global supply chain disruptions, the LiB market is one of the fastest developing industries. The growing demand is driven mostly by the increased need for electric vehicles (EVs), energy storage systems (ESS), portable electronics, and tools. In fact, the latest predictions say that by 2030, the global market need for LiBs will grow 17 times, reaching an unimaginable 9,300 GWh. To put it in perspective, this accounts for tens of millions of batteries for electric cars, storage containers, and consumer devices around the world.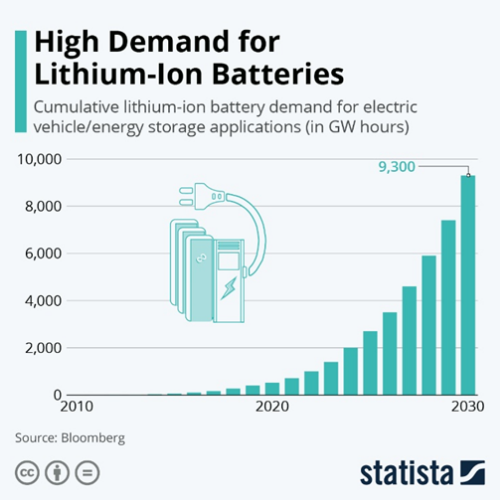 According to Bloomberg, the global market demand for LiBs will grow nearly 17 times by 2030 and reach 9,300 GWh (Statista).
The industry has been debating how to meet this enormous demand for quite some time. Keeping in mind how dangerous it is to transport such large numbers of batteries across different regions due to their highly flammable nature, it was imperative to establish a complete domestic battery chain in Europe. According to the experts, the European firms already have the capacity to supply all LiBs needed for the regional automakers by 2025, as they ramp up the electric vehicle output to meet strict pollution limits. They are expected to produce between seven and eight million batteries which are more than the current needs of domestic EV manufacturers. In fact, the European Battery Alliance is spending €20 billion to support the building of 70 cell factory projects in 12 EU member states.
Given the growing market demand, there is an urge for safe and sustainable packaging solutions to optimize the transportation costs of LiBs. Follow along as the three key challenges that the LiB packaging must overcome to meet these demands are revealed.