There is no doubt that the global packaging industry has finally recognized that the time to act on climate change is now. Every day, there is news about new product launches using sustainable materials or companies that are switching from traditional energy to alternative sources to reduce CO2 emissions. Key legislative authorities also contribute by enacting rules and regulations supporting this direction, such as the EU Green Deal or the Paris Agreement.
However, there is still much work to be done. The matter is that sustainability affects many different aspects of packaging production, logistics, and supply chains, and each player has unique requirements and challenges. Nefab conducted a customer survey at the end of 2021 to better understand the key priorities in terms of sustainability. Continue reading to find out the three key takeaways and recommendations.
1. Reduction of CO2 emissions
More than half of all surveyed customers confirmed that reducing CO2 emissions is their most pressing challenge and demand. This is understandable given the huge push to reduce global greenhouse emissions by at least 50% within the next 8 years (United Nations Climate Change). Since transportation is the biggest culprit here, accounting for more than 23% of global CO2 emissions according to the UN, the simplest solution is to optimize the transportation model.
A thorough Life Cycle Analysis (LCA) helps to analyze the potential savings on both packaging costs and load optimization while providing a full picture of the business's environmental impact. In 2021, Nefab completed over 1,300 LCAs, assisting its customers in reducing CO2 emissions by approximately 30% over the full life cycle of the packaging, including its production, transportation, and end of life. For example, by designing a packaging solution that enables the product to be stacked during transportation, Nefab's customers were able to increase the load per truck, resulting in approximately $2 million USD in savings per year in addition to CO2 savings.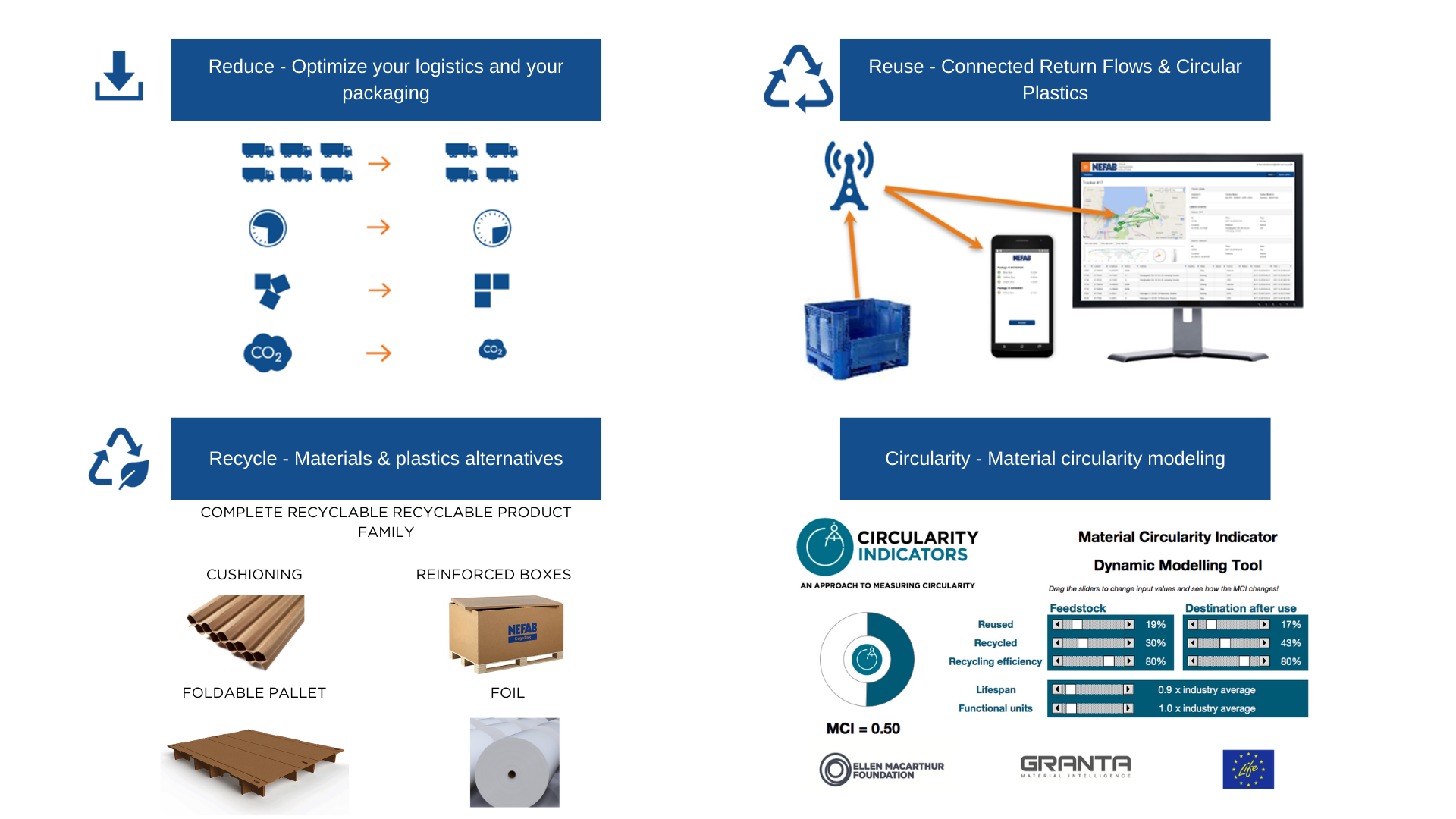 According to Nefab, packaging companies can meet their sustainability targets by simply implementing the 3R's principle (reduce, reuse, and recycle).