Packers & Freighters
Packing & logistics company in need of quality export packaging solution
The Customer Case:
The customer is conveniently located in the heart of one of the main shipping points, and is minutes from an international airport and major rail yards that service all U.S. ports. Their company was founded in 1973. Their vision of a company dedicated to service and quality has developed their business into one of the largest and most respected packaging companies in the nation.
The Nefab Solution:
"Nefab and ourselves have been working together for five years. As an export packing company, we need to be able to offer different solutions to accommodate our customer's needs."
Working with Nefab gives us the opportunity to offer our customers a wide range of packaging solutions that meet their needs. Quality is our number one goal and we feel that Nefab offers a quality product along with superb customer service. I look forward to our continued relationship and I recommend the Nefab products and services."
Benefits for Freight Forwarders working with Nefab:
As a result of Nefab's positive relations with their distributors, companies like this customer can now offer complete solutions to their customers, ensuring that they are the 'one-stop-shop' for customer requirements throughout the logistics flow.
Saves time and money for those who want to buy small quantities from one supplier
Offer wooden boxes which are collapsible and stronger than traditional wood boxes
Air-freight due to the lighter Nefab ExPak box,
Collapsible crating saves - warehousing,
The reduction in OD vs. ID dimensions allows more load per container saving freight costs for customers.
An entirely new market can be serviced with their existing distribution network
Export packaging is compliant with international phytosanitary regulations (ISPM #15)
Freight Forwarders looking to broaden their product/service offering
International freight forwarders act on behalf of exporters in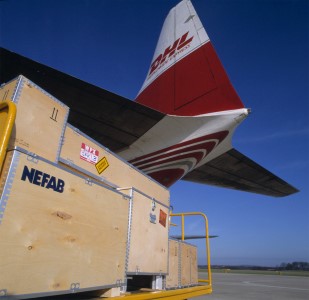 arranging transportation services. They facilitate the international movement of goods by providing a wide range of advisory, administrative and physical services to the exporter.
The freight forwarding industry in Canada consists of some 280 companies that employ around 15,000 employees. These are made up of approximately 1,000 offices, which are located in 150 locations across the country. The majority of their offices are found in Montreal, Toronto and Vancouver.
The market is now demanding more services. This is why many freight forwarders are turning to Nefab, the global leader in collapsible wooden packaging for export solutions.
The Nefab ExPak is being chosen as the packaging for export shipments due to their light weight, strength, and ease of assembly. Old wood boxes simply take up valuable warehouse space, and are quite expensive to purchase and assemble. All those involved in the packaging process immediately notice benefits in ease of assembly and safety due to the crates being nail-less, for instance. Productivity has increased and the superior stacking strength has allowed Freight Forwarders the ability to store more finished goods in the same cubic space in comparison with the old packaging