Packaging Design & Engineering
Nefab is a custom packaging solutions provider that specializes in designing and manufacturing systems to safely and securely transport products in a timely and efficient manner. We create industrial packaging solutions for a wide range of industries, including energy, oil and gas, aerospace, healthcare, telecommunications, and vehicles.  
Nefab designs complete industrial packing solutions based on customer requirements. Our engineering team can design a complete packaging solution based on your specific needs.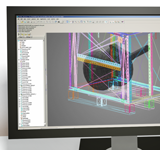 Employing highly-skilled packaging design engineers, we offer a structured process that utilizes state-of-the-art 3D software to create a unique custom packaging design. Looking at all the requirements for each project, our engineers focus on enhanced product image, exceptional product protection, storage, and transportation concerns.
Our focus is on combining Nefab's high-quality packaging solutions with the needs of our customers. Using our knowledge of wood, steel, foam, and corrugated materials, we design and fabricate industrial packaging that will withstand the rigors of shipping. Custom packaging design also takes advantage of additional packaging materials such as protective cushioning products to ensure maximum product protection.
Custom Designed Packaging offers the following benefits:
Performance: Damage risks are significantly increased when products are not secured within the package, and using a crate that is too big or not properly designed leads to purchasing more inner packaging than necessary.
Savings: Custom designed packaging from Nefab considers the transport and handling, assembly time, and other factors that packaging affects which helps you cut down logistic expenses.
Image: When your customer receives your product and sees how well packed it is (remember well packed does not mean over packed) it reflects well on you as a supplier.
Durability: Having the right package for the right product means it was designed with all factors in mind.
Collapsibility: Much of Nefab's export and returnable packaging is designed to be tool-free and collapsible, saving you significant time and money when it comes to storing and transporting.
As a leading industrial packaging manufacturer, we give our customers peace of mind by knowing that Nefab has created a custom packaging solution that is optimized to reduce total cost.
To validate that a packaging solution meets the criteria defined, Nefab offers testing according to the most common testing standards (ISTA, ASTM, ISO, ENSI and EN). We have our own ISTA certified testing laboratories in China, India, Netherlands and Sweden.
FEM stands for Finite Element Method, or sometimes referred to as FEA (Finite Element Analysis). It is a computer method subdividing a complex structure into smaller more manageable (finite) elements. Using this software, our designers can simulate situations to approximate stresses and deformation.