Simulation Software
Nefab uses a computer simulation program called Finite Element Method (FEM). This program can simulate real life situations to determine approximate stresses and deformation. This allows engineers to determine possible issues before the prototyping and testing period. 
What is FEM/FEA?
FEM stands for Finite Element Method, sometimes referred to FEA (Finite Element Analysis).
It is a computer method subdividing a complex structure into smaller more manageable (finite) elements allowing the problem to be solved. Nefab engineers use FEM/FEA to simulate real life situations that approximate stresses and deformation.
The simulation also provides detailed information as to how a single form or complex assembly will perform under certain loading conditions.
Benefits:
Loading and boundary conditions can be simulated
Minimize risk of failure due to design or unforeseen error
By using the simulation technique, Nefab engineers can determine areas of over-design to create cost savings opportunities
Reduce cost for research and development of Nefab product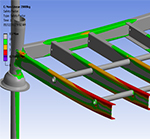 We offer FEA (Finite Element Analysis), which is a Computer Aided Engineering tool that allows Nefab Engineers to virtually examine the stresses and strains within designs.