Testing Capabilities
Transport packaging and its contents are influenced by the modes of transport. Depending of which transport mode that is used, packages will be exposed to different kind of stresses. Our ISTA Certified testing facility in Silicon Valley will ensure your packaging holds up to all modes of transport.
There are two main stress points in packaging:
Mechanical Strains - The most common mechanical strains on transported goods are force stresses like, stacking pressure and shocks and energy stresses like vibration and dropping.
Climatic Stresses - Climate plays a vital part for the durability and performance of the packaging during the transport.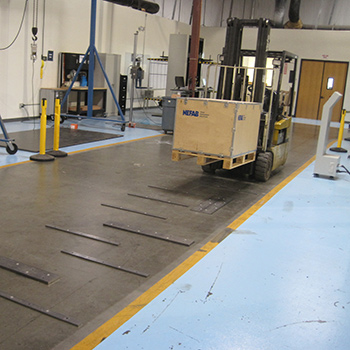 ISTA Certified Forklift Handling Course
The Handling Course is comprised of ten plates, fabricated from steel, and installed in a manner that prevents movement for the duration of the testing sequence. The placement of the plates is in accordance with ISTA standards.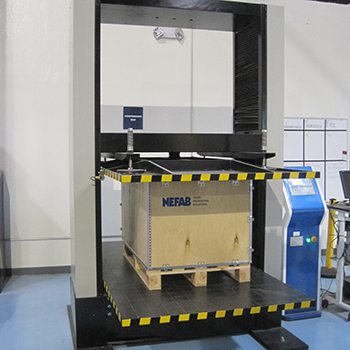 Compression/Stacking
Apply & Release, Apply & Hold up to 100kN (22480 lbs)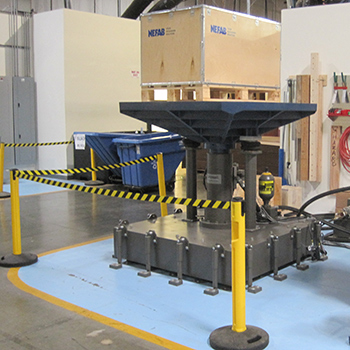 Vibration
Fixed displacement vertical (1-5Hz @ 1" constant displacement), sine and random vertical (1-300Hz). 60" x 60" table with 4" stroke length, products up to 4500 lbs.
Shock & Drop
Free fall, rotational (flat and edge), on hazard, hazard impact, incline impact, etc.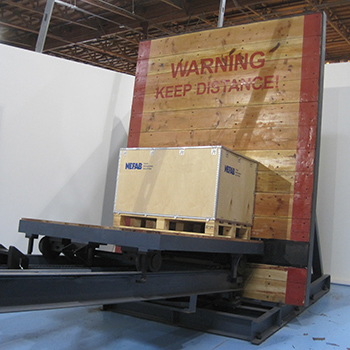 Incline Drop
1-4.9 m/s impact velocity. Products up to 3500 lbs.
Atmospheric
-20C to +85C. 25% to 95% Relative humidity.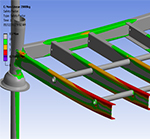 We offer FEA (Finite Element Analysis), which is a Computer Aided Engineering tool that allows Nefab Engineers to virtually examine the stresses and strains within designs.
Additional Testing

Materials Testing
Mullen Burst (BST)
Edge Crush Test (ECT)
Plywood bend test
Tensile/compression up to 10kN (2248 lbs)