Packaging for Outdoor Racks
The Customer Case:
This customer is a leading supplier of telecommunication infrastructures and manufacturers racks for Mobile Cabinets.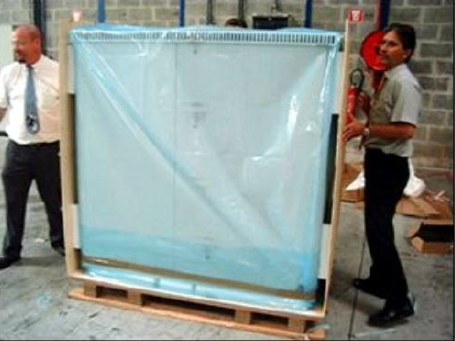 The racks are fixed on pallets and transported to where the PCB's and modules are assembled prior to delivery of the cabinets to a 3PL for packaging and worldwide dispatch. Domestic shipments require stretch film and corner damping, while export shipments need extensive packaging. The fixed cabinet is put in a wooden box and placed on another pallet, which creates high packaging and logistics costs, especially when being transported by air (60% of the time).
The Nefab Solution:
It was agreed upon that the ExPak S with 1/4 inch (6mm) plywood would be the best solution. Wood pallets were replaced by Oriented Strand Board (OSB) pallets for all worldwide destinations so that Phytosanitary regulations could be met. To reduce costs even further, Nefab provided VCI foam pads, foil and foam fitting sticks as inner packaging. Stretch film and corner damping are still used in the majority of shipments.
Customer Benefits:
Total Cost Reduction of 22% in packaging and logistics cost
Contact US