Heavy Duty Packaging
Do you have products that are extremely large and/or heavy? Wondering who can package them? Nefab has a long, successful track record of designing heavy duty packaging that delivers expensive, delicate, and heavy equipment on time and in excellent condition. 
Our heavy machinery packing service reflects our understanding of our customer's supply chain, global logistics and the need to minimize costs while delivering unparalleled quality. Our industrial customers have been relying on us to engineer heavy machinery packaging for years. Our exceptional customer service and heavy duty designs have put us at the top of the industry.
No matter the size or weight of your equipment, Nefab has the ability to design and manufacture a unique custom packaging solution. If it's big and heavy Nefab can provide you with the custom Heavy Duty Crate you need to ensure that your product arrives safely.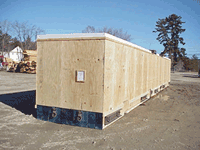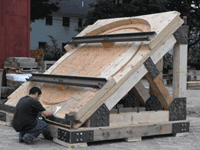 One of Nefab's greatest strengths is our ability to offer timber packaging and pallet solutions which cannot be sourced effectively by other competitors.
Heavy Machinery Packaging Solutions
Shipping heavy machinery is no simple task. It requires the know-how to produce a solution that has the strength and durability to deliver heavy equipment without damage.
We go beyond just boxing up a machine. We design custom heavy machinery packaging solutions that provide shock and vibration protection as well as corrosion inhibition as needed. If the situation warrants theft protection, we will build that feature into the design. We design a packaging solution that meets the needs of our clients and their products. With years of experience working with oil and gas, energy, and heavy equipment industries we know what it takes to package 'big and heavy'.
Whether it's packaging of fuselages and winglets for the aerospace industry or crating of huge rotors for the energy industry, our ability to design heavy machinery packaging solutions sets us above the competition. Customers in the oil and gas, healthcare, telecommunications, and vehicles industries also rely on us for the protection of their heavy machinery and equipment. Our understanding of industrial packaging requirements enables us to provide a wide range of heavy machinery packaging design services and solutions.
Our in-house designers engineer heavy duty skids and heavy duty containers from a variety of materials. All solutions produced by Nefab are made from the highest quality products. These products withstand the weights and forces of extremely heavy duty machinery.
Nefab heavy machinery packaging solutions are extremely strong and durable. Using simulation software helps us predict stresses and strains. It also helps us choose the packaging materials best suited to the application. We then design a solution that optimizes the inner and outer diameters to maximize transport space while still offering full machinery protection. If your heavy machinery needs to go across town, the country, or the globe, we will design the packaging solution to get it there safely.
Heavy Duty Wood Skids
When your products tips the scale in the tens (or even hundreds) of tons, you need to call Nefab. We have unsurpassed capability in the design and fabrication of heavy-duty skids for such immense (and extraordinarily expensive) items as 100,000-pound oilfield pumps, 300,000-pound turbine rotors or 400,000-pound nuclear-powered generators.When skidding for ocean transit, where a payload can be exposed to forces along six axes of movement (roll, pitch, yaw, heave, surge, and sway), shifting of such massive loads can spell disaster. Nefab's extensive knowledge of these complex forces combined with our experience working with timbers, steel beams and other structural materials assures the most cost effective solution for your highly-valued products.