Returnable Packaging
Returnable packaging is usually a cost efficient alternative if the flow of goods is reasonably large and the points of distribution are quite few. A rule of thumb is that the packaging should complete at least four cycles per year to be profitable, compared to expendable packaging.    
A returnable packaging system can realize significant cost savings compared to a one-way solution.
Returnable containers are constructed to support heavy loads and to provide excellent resistance to impact, resulting in better protection of the product carried inside.
Returnable packaging reduces the amount of trash going into the landfill.
LogPak
The pallet collar consists of four heat treated wooden boards connected by four galvanized or painted steel hinges. The three main products included in the pallet collar system (pallet, pallet collar and lid).
A pallet collar could be very suitable for rough conditions, where infrastructure is not well developed, due to its robust characteristics.
Steel Containers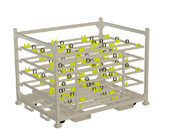 Steelrack
Nefab Steel Racks and Steel Containers are completely customized in terms of dimension, material type, locks, handles and much more. Steel racks are mainly used in the automotive industry but are becoming widely used in many segments for domestic shipments.