Nefab's fiber-based packaging solution for Lithium-Ion batteries (LiB) was awarded in the sustainability category. The jury was impressed by the environmental savings that Nefab's solution offers. Until recently, the battery industry has relied heavily on Expanded Polypropylene (EPP) materials which are difficult to recycle. By switching to a mono-material fiber solution, the whole packaging is sustainable and fully recyclable. Despite its fiber-based character, the packaging design can withstand over 350 kilogram weight per box and allows for 1+3 stacking. On top of that, the awarded solution is UN certified for transporting dangerous goods.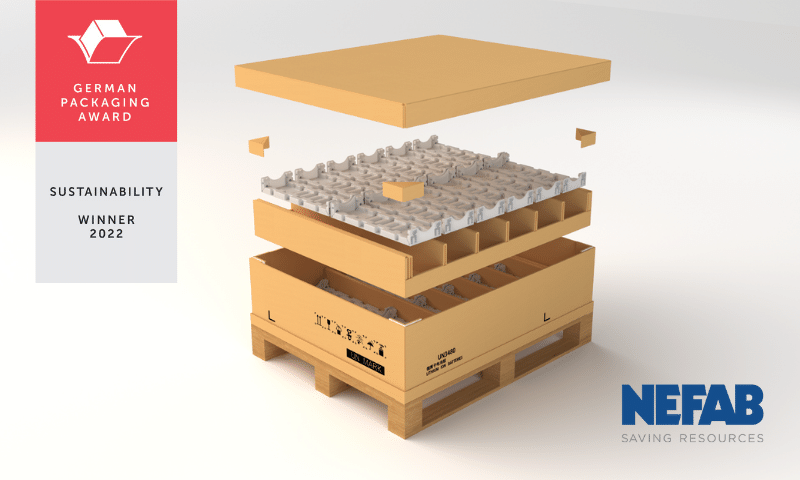 The EdgePak Straw solution is ideal for one-way LiB shipments as it reduces both environmental impact and total supply chain costs and is simple to recycle. The concept can also be applied to other heavy products shipped in demanding supply chains. The winning solution will be presented at the upcoming FachPack trade show in Nuremberg, Germany, at Nefab's booth no. 515 in hall 9, from 27th to 29th September 2022.
"We are extremely honored with this prize and happy that the German Packaging Award jury noticed the unique qualities of Nefab EdgePak Straw. We are also grateful to our LiB customers with whom we collaborated to develop this innovative solution that addresses two of the biggest challenges: the growing need for sustainability and cost reductions across the entire supply chain" says Sebastian Wachauf-Tautermann, VP Sales and Marketing, Europe Nefab Group.
LEARN MORE
GreenCALC
Nefab's own certified calculator measures and quantifies financial and environmental savings in our solutions
Sustainable Solutions
Engineered packaging for sustainable supply chains
Sustainable Materials
Fiber-based packaging and raw materials
GET IN TOUCH
Sebastian Wachauf-Tautermann
VP Sales and Marketing, Europe Nefab Group
sebastian.wachauf-tautermann@nefab.com
ABOUT
Nefab saves environmental and financial resources by optimizing supply chains. We do this by innovating together with our customers to create smarter packaging and logistics solutions while always respecting people and high ethical standards. This contributes to a better tomorrow for our customers, for society and for the environment. With more than 70 years of experience combined with competence and presence in more than 30 countries, we offer global solutions and local service worldwide to companies in industries such as Telecom, Datacom, Energy, Automotive, Healthcare, Aerospace and Lithium-ion Batteries.
The owners of Nefab Group are the Nordgren/Pihl family and FAM AB.