We are delighted to share that this week Business Focus magazine, a leading, business-to-business publication that keeps up with the latest developments in the business world, published an executive interview with Rui Garrido, Executive Vice President, Industry & Europe, Nefab AB. In the below article, learn how Nefab successfully evolved to become a leading global industrial packaging and logistics services provider. The article outlines the company's more than 70-year market experience and highlights key milestones, while also revealing senior management's vision for the near future. Enjoy reading!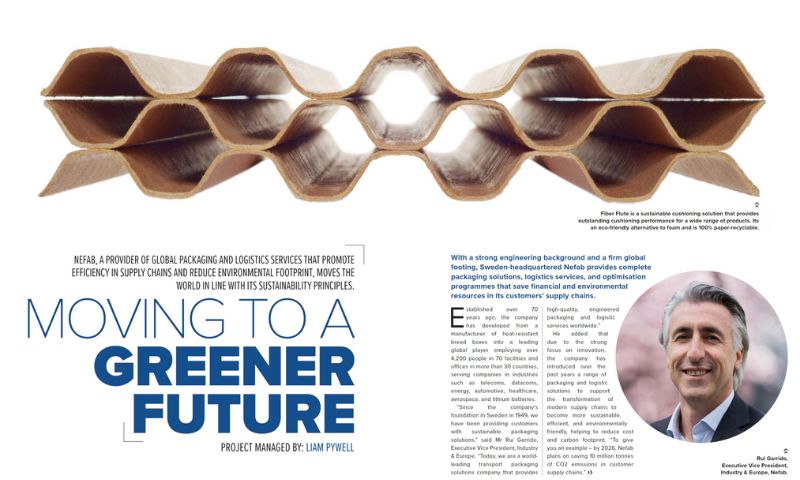 At Nefab, we are finding new ways to achieve greater sustainability in our solutions and smarter ways to reduce the environmental impact. To deliver on our promise, we helped many companies identify potential CO2 and cost savings of their business model by using GreenCalc, a Life Cycle Analysis tool (LCA). Together with our portfolio of eco-friendly packaging materials, we believe this solution will help us save 10 million CO2 emissions in customer supply chains by 2026. Get in touch, to find out how.
We save resources in supply chains, for a better tomorrow.
Want to learn more?
GET IN TOUCH
Contact us to learn more about our sustainable solutions driving supply chains forward.
LEARN MORE
GreenCALC
Nefab's own certified calculator measures and quantifies financial and environmental savings in our solutions
Sustainable Solutions
Engineered packaging for sustainable supply chains
Sustainable Materials
Fiber-based packaging and raw materials