Packaging for Gas Cylinders
The Customer Case:
A company that manufactures various types of high-value gases is exporting from Canada to Europe, Australia, and China by air and sea freight. The company ships its cylinders full of product in a standard steel cage that could fit many cylinders at a time, even though the company needs to fit only 2 or 3 cylinders. The customers of this company not only disliked the bulkiness of the steel cages, but also the fact that they had to pay a daily rental fee along with the return freight of the cages. The company's exports were being affected, so they wanted a new and creative solution.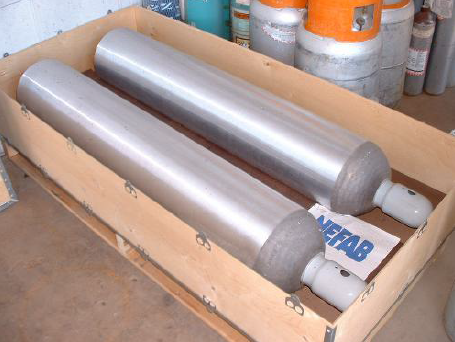 The Nefab Solution:
Nefab presented the company with an innovative solution, the Nefab ExPak Type S, consisting of 1/4" (6mm) plywood and steel profile. The internal dunnage consisted of high-grade honeycomb material that held the cylinder(s) in place. To test the integrity of the packaging, Nefab's solution was submitted to strict drop tests based on IATA Packing Instruction 650 for outer packaging. As expected, the Nefab ExPak S with inner honeycomb dunnage successfully passed the tests.
Customer Benefits:
Reduction in shipping costs
Eliminated rental fees and return costs for steel cages
Reduction in warehousing space as the ExPak S boxes are delivered flat
Improved ergonomics at the company and its customers sites
Three box sizes covers all sizes of gas cylinders
Contact US