Packaging Services
Packaging services to make our customer's everyday easier.
Besides design and product delivery, we have developed a service offer including packing services, returnable management sourcing and Vendor Managed Inventory.
We assume the role of a packaging logistics provider, acting as the interface between packaging producers and customers. With strong purchasing power and packaging expertise, Nefab can offer the right packaging solution for a lower total cost - an added value in packaging!
Packing Services
Nefab's commitment to provide a full scope of integrated services includes contract packing of customer products. This allows Nefab to assume full responsibility for the functionality of the packaging solutions designed and supplied. Benefits include variable cost instead of fixed cost, feedback on the efficiency of current packaging solutions and no need for in-house competence.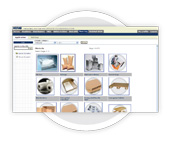 Sourcing - One Stop Shop
Nefab can provide a one stop shop for all packaging needs. By using Nefab as a complete packaging provider, there is no need to negotiate with suppliers or develop new solutions. Nefab takes care of all these issues as a professional partner and gives the opportunity to focus on core business.
VMI - Vendor Managed Inventory
Short lead-times and a constantly changing market situation require flexible logistical solutions where variable, rather than fixed, costs are preferred. Nefab's response to this demand is a VMI service where Nefab assumes the responsibility to source and supply packaging just-in-time.