Accelerating the journey towards boosting efficiency in supply chains and reducing environmental footprint
Nefab will present its recyclable thermoformed plastic and fiber-based products as well as digital logistic solutions
By 2026, Nefab plans on saving 10 million tons CO2 emissions in customers' supply chains
Jönköping, Sweden, September 12, 2022 – Nefab, a leading global industrial packaging and logistics services company, will present at FACHPACK 2022 omplete packaging solutions that can help optimize and future-proof supply chains. With a focus on saving resources in supply chains – both financial and environmental, Nefab will showcase at booth no. 515 in hall 9 its recyclable thermoformed plastic and fiber-based products as well as digital logistics solutions paving a way for the economy of tomorrow.
"Taking care of the world's natural resources has always been a part of Nefab's heritage. We have set the objective to create a range of packaging and logistic solutions to support the transformation of modern supply chains to become more sustainable and environmentally friendly. . To set an example, our ambition is to until 2026 reduce our customers' CO2 emissions by 10 million tons ", said Oscar Gestblom, EVP People and Brand, Nefab Group.
Going digital saves cost
Reducing the number of materials and resources needed to design and ship packaging is one of many ways businesses can generate savings while minimizing their green footprint. An efficient way to reduce the use of resources is to add connectivity to returnable flows and pools and this way boost efficiency by as much as 65%, hence contributing to saving resources in the supply chains. With a broad portfolio of connected devices, Nefab can trace packaging around the world in real time, measure its temperature, shock, humidity, and more to assure optimal conditions during shipment.
Another digital tool that Nefab will present during the show is GreenCALC, a Life Cycle Analysis (LCA) tool that identifies potential CO2 and cost savings of a packaging solution. GreenCALC looks at the total lifecycle of materials from the cradle to the grave and calculates the environmental impact on the packaging production phase, transport phase, and end of life.
Sustainability redefined
Visitors at FACHPACK 2022 can also learn how to generate savings while switching to fiber-based packaging, such as EdgePak Straw, an awarded solution by German Packaging Awards 2022 that provides stacking strength and easy handling at a low carbon footprint. Comparably strong and moisture resistant as plywood, it is a reliable solution not only for light but also heavy cargo and can be used to ship products in demanding supply chains by road, sea, and air. Made from agricultural waste, it is easy to recycle in existing paper streams and minimizes the landfill. To increase the safety of the working environment, EdgePak can be handled and assembled without the use of nails or tools.
Nefab's EdgePak Straw
For shipments requiring stronger product protection during transportation to far-away destinations, Nefab also offers RePak, a lightweight plywood box with collapsible hinges to ensure ease of handling, assembly, and recycling. Ideal for large returnable flows, the box is equipped with steel components to reinforce its longevity and strength for multiple uses.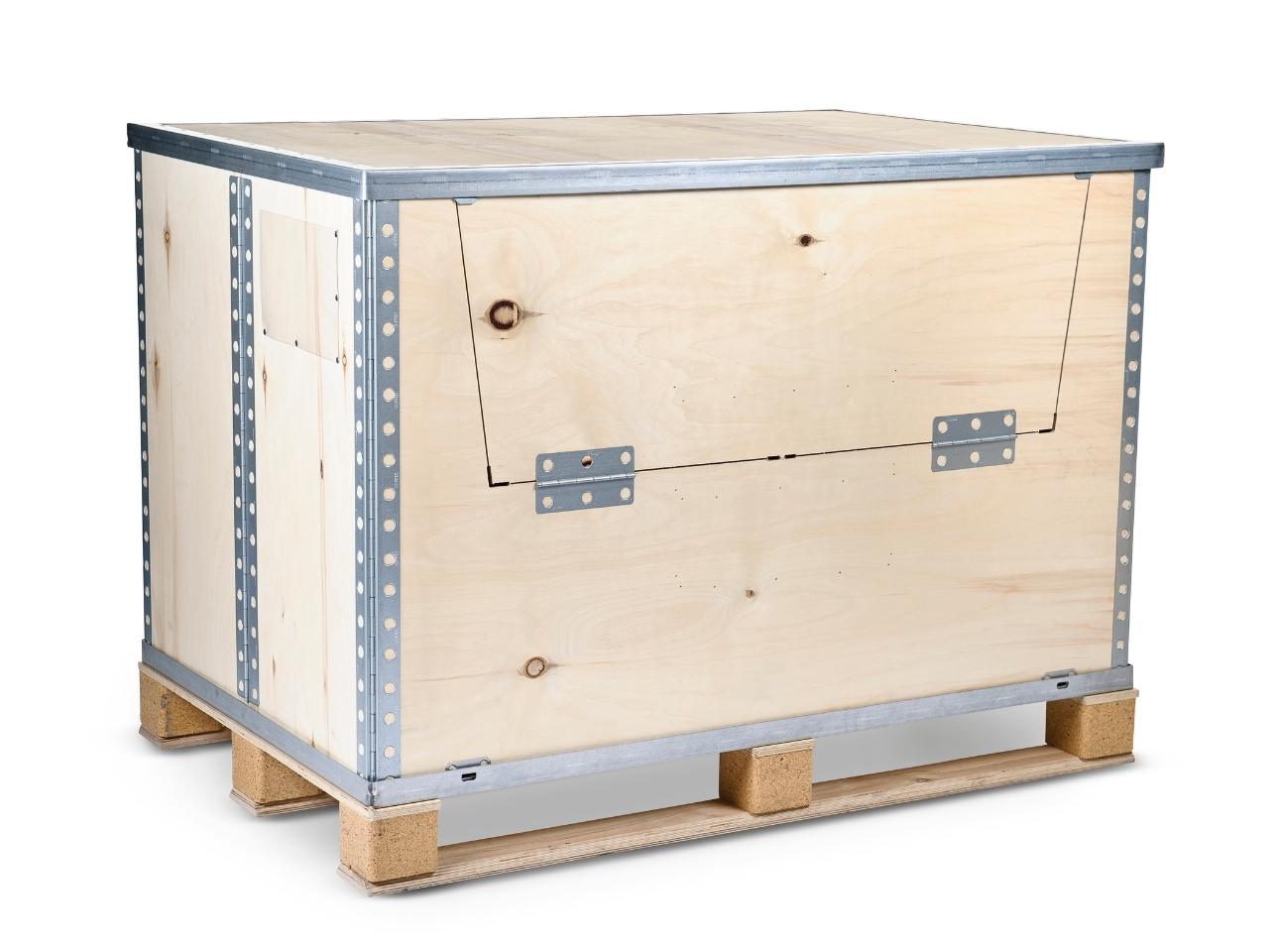 Nefab's RePak
Commited to change
Visitors at FACHPACK will also have the chance to discover Nefab's newly launched range of sustainable plastic packaging, including thermoformed trays and cushioning applications. Both made primarily from recycled plastics and 100% recyclable materials, they are an efficient alternative for both one-way flows, as well as return and circular flows. Ideal for automated lines that require precision packaging due to robotic handling, they are engineered to be highly protective and to match specific product requirements and regulations.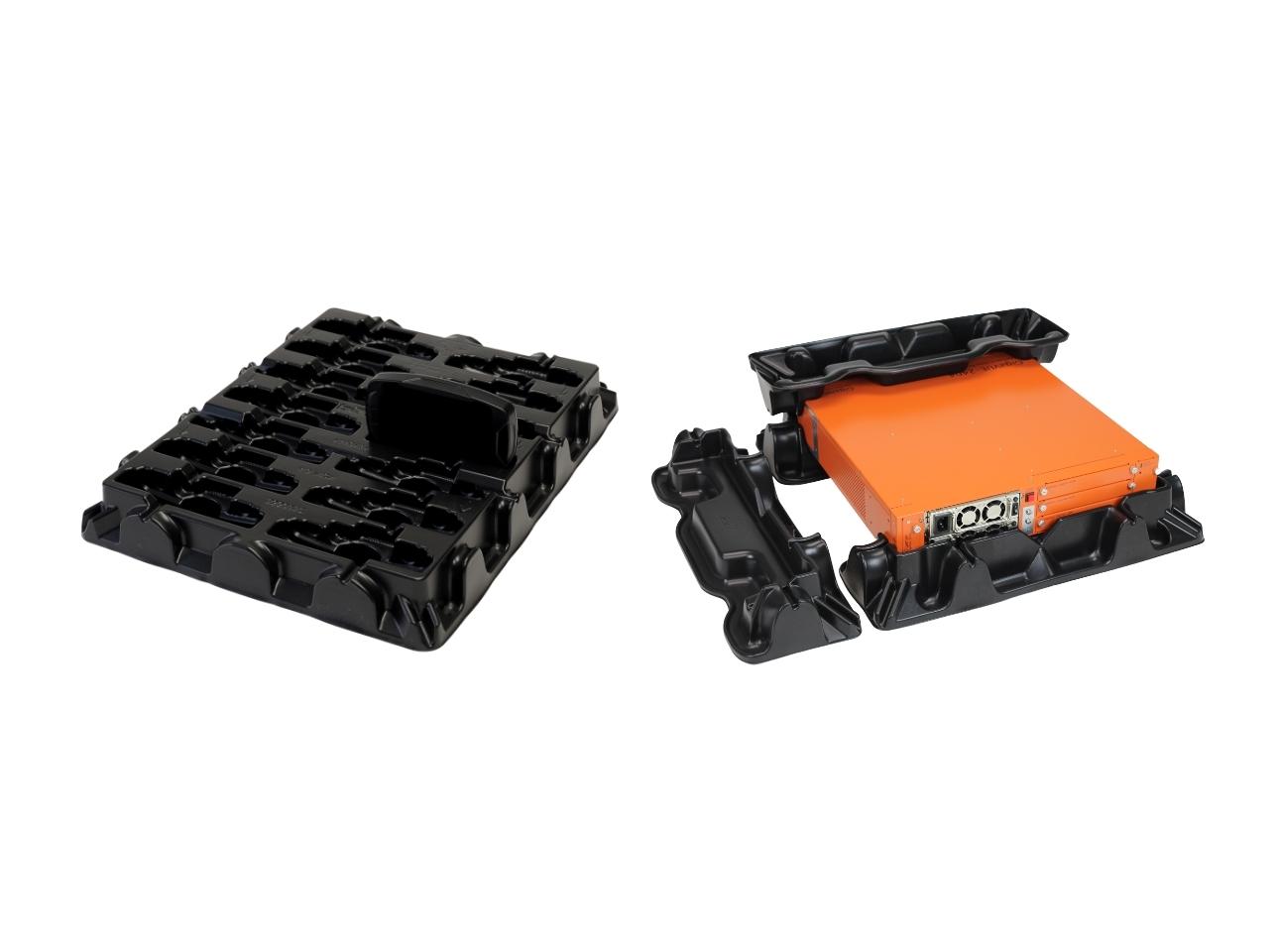 Nefab's thermoformed trays and cushioning applications
These product developments are a result of two important acquisitions between 2020 and 2021 – Szkaliczki and Partners Plastic Processing Ltd (Szkaliczki) and Reflex Packaging (Reflex). While Skaliczki secures Nefab's leading position in technology and engineering capabilities for thermoformed trays, Reflex secures Nefab's global leadership in sustainable cushioning solutions. Combining these new capabilities with Nefab's global footprint, the company can now support customers in managing their packaging waste and creating a truly sustainable supply chain.
"We can collect and regrind the thermoform waste into raw material that can be thermoformed again into the same or different solution. This way we can increase CO2 savings up to almost 60%. With a wide range of both digital and sustainable material packaging solutions, we are innovating to lead the way towards a more sustainable tomorrow", stressed Oscar Gestblom.
If you want to learn more, visit Nefab's booth no. 515 in hall 9 at FACHPACK 2022 in Nuremberg, Germany, from 27th to 29th September.
About Nefab
Nefab saves environmental and financial resources by optimizing supply chains. We do this by innovating together with our customers to create smarter packaging and logistics solutions while always respecting people and high ethical standards. This contributes to a better tomorrow for our customers, for society and for the environment.
With more than 70 years of experience combined with competence and presence in more than 30 countries, we offer global solutions and local service worldwide to companies in industries such as Telecom, Datacom, Energy, Automotive, Healthcare, Aerospace, and Lithium Batteries. With the acquisition of Reflex Packaging, the Nefab Group will have over 4000 employees spread across 35 countries, with a yearly turnover of nearly 7 BSEK. The owners are the Nordgren/Pihl family and FAM AB.