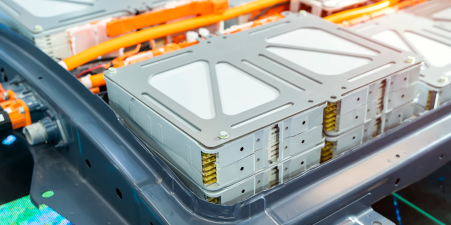 LITHIUM BATTERY PACKAGING
Shipping lithium batteries is a complicated process, and as a lithium battery sender, you are responsible for safe shipments of your products - a job that should be taken seriously. If done wrong, the lithium batteries might quickly become a threat to the safety of anyone in their vicinity. With a long and proven track record in dangerous goods and lithium batteries, Nefab holds a position to serve all flows and statuses of batteries while supporting our customers with regulatory guidance.
We have the right solution for your Lithium Battery
Illustration of Lithium Battery Packaging Flows & Statuses
Dangerous Goods is a designation for substances and products that have such dangerous characteristics that they can cause harm to humans, animals, environment or property if they are not handled correctly during transport or storage. Lithium Batteries are classified as Dangerous Goods, Class 9 by the United Nations.
The basic purpose for dangerous goods packaging is to fully contain the dangerous goods, even if the box is being put under great stress.
Nefab provides both existing solutions that are already certified for packing lithium batteries, as well as new solutions that we design, test, and validate according to your specific needs. We have the engineering capability and knowledge to provide complete, multi-material packaging solutions for all statuses and flows. This allows us to be a reliable partner for your packaging needs, from the outer packaging itself to every accessory in between, such as absorbents, labels, and tapes.
Regulation Expertise, Secure Compliance
Pre-Approved Packaging in order to reduce lead-time
Nefab has a multitude of certificates for Lithium Batteries, covering over 700 different boxes. In order to reduce lead time and costs, it can be beneficial to use a pre-approved solution. To determine if our approved solutions can be used with your product, we will first investigate the status and method of transportation. Then, we will calculate the gross weight of the shipment and see if we have an approved dangerous goods certificate that matches your product.
New Packaging
Due to the stringent requirements stipulated by the UN, the developed solution must go through a type approval test before it can be used to ship these goods. International agreements for the carriage of Lithium Batteries require packaging to be of a design type, certified by a national competent authority. This involves testing the packaging with the appropriate UN specifications to ensure its suitability for the carriage. Our engineers have the skillset and experience to take new Lithium Battery packaging through this process.
Solutions by application
With Nefab's worldwide engineering resources, capabilities, and experience we can provide you with complete LiB packaging solutions for all applications.
Solutions by Battery Status
While Nefab can provide complete packaging solutions for all batteries, the type of solution will depend on its status.
Prototype
A prototype LiB hasn't been tested and qualified in accordance with the UN's 38.3. The prototype regulations also apply to low series production of untested batteries. The solution to the right is a returnable packaging for packs with a LiB Blanket.
Series
No matter if your status is series for production, distribution, or recycling, Nefab can provide the right solution. The solution to the left is a fully plastic, re­turnable load unit for modules. The unit load consists of thermoformed trays, pallet, lid and frame. The solution can bear a load weight of up to 400 kg and packing/unpacking is robotized at the customer site.
Damaged, defective critical
Our boxes for defective critical batteries are state-of-the-art packaging. A potential electrolyte leakage will be captured by the box, and due to its rigid construction, it is protected against the escape of flames or ejection of projectiles during an emergency event.